CFC Rated Tournament (CFC Membership Required)
OCTOBER 8, 9, 10, 2011
SPONSORED UMOJA & EAC CHESS – ARTS
PLACE: 10025 Whalley Blvd Surrey, V3T 4G1 (1 Block from King George SkyTrain Station)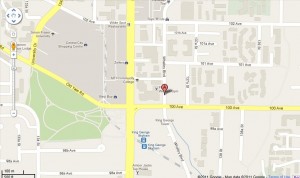 ROUNDS: 6 ROUNDS SWISS SYSTEM
ROUND TIMES: (SAT) 9:30AM/ 2:00PM / 6.00PM (SUN) 6:00PM / (MON) 9:30AM/ 2:00PM
TIME CONTROL: 75 MIN / 30 SEC. INCREMENT
ENTRY FEE: $80.00 IF PAID BY SEPTEMBER 30th

$100 ONSITE (Cash Only)
FAMILY DISCOUNT : Two players for one
GM's, IM's, WGMs Free Entry ($100 deducted from  prize)
PRIZES: $2,650 guaranteed & 7 digital chess clocks & a chess set
OPEN SECTION: 1st $1000, 2nd $500, 3rd $250
U2200: 1st $200, 2nd A Digital Clock
U2000: 1st $200, 2nd A Digital Clock
U1800: 1st $200, 2nd A Digital Clock
U1600: 1st $150, 2nd A Digital Clock
U1400: 1st $150, 2nd A Digital Clock
U1200: 1st A Digital Clock
UNRATED: A DIGITAL CLOCK
REGISTRATION:
MAKE CHEQUES PAYABLE TO: EUGENIO CAMPOS, OR BY MAIL
TO: EUGENIO CAMPOS, 14524 91B AVE. SURREY, B.C. CANADA, V3R-7L1,
OR IN PERSON AT THE ABOVE ADDRESS BY PHONING FIRST AT (604) 767-5153, OR
ONSITE FROM 8:45AM TO 9:15AM (CASH ONLY)                                                                                                                                       
SETS PROVIDED, BRING YOUR CHESS CLOCK if you have one; 2 Half-Point Byes only for the 1st 4 rounds If Requested In Advance Before Tournament Start
1 HOUR GRACE RULE BEFORE FORFEITING
CONTACT: ALONSO CAMPOS (ORGZ & TD) 604 – 767 – 5153
OR EMAIL AT: eacchess-arts@hotmail.com
WEBSITE: www.eacchess.com 
TOURNAMENT DIRECTOR: Alonso Campos
SIDE EVENTS:
GM Alonso Zapata's Simultaneous Exhibition – Oct 6th, 2011
GM Alonso Zapata's Lectures – Oct 7th, 2011
ACCOMMODATION:
October 8 – 10, 2011
Group Special $109 Plus Taxes / per night CAD
88 suites, all are approximately 600sqft
All suites have private master bedrooms with Over-Sized King Size Beds and pull out sofa beds in the living room.
All suites have living rooms with Fireplaces and Private Balconies.
All suites have full kitchens complete with a full stove, pots & pans, a dishwasher, microwave, and utensils & place settings for four people.
All suites have in-suite washer and dryers.
All suites have two televisions with movie & music systems and two telephones.
All suites have complimentary High Speed Internet access.
Pet Friendly Rooms Available upon request*
Complimentary Business Centre
24 hours Guest Services
Moxie's Classic Grill Dining, Lounge and Room Service**
Complimentary Gated Parking
3 Wheelchair Accessible Suites
We are walking distance to:
Guildford Mall, Empire 12 Theatres, Guildford Recreation Centre,
BC Liquor Store, and much more…
So Many Reasons to Stay!
For Reservations call 604-582-7263 or 1-800-726-3626
Please Quote Group Number: 84320
When Booking
*$20 per pet per night in designated rooms
**Please contact the Moxie's Restaurant Manager (604-495-7020) for any meal arrangements